Facemoji Keyboard APK for Android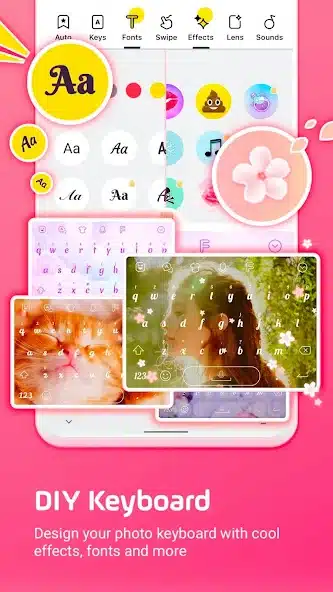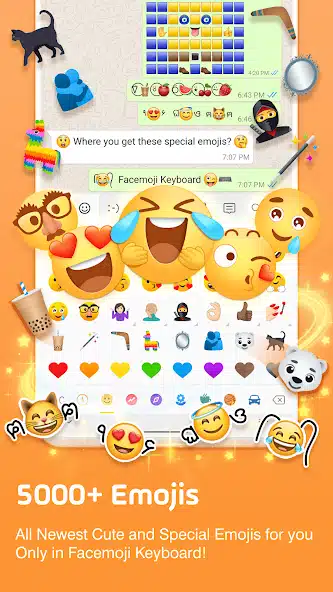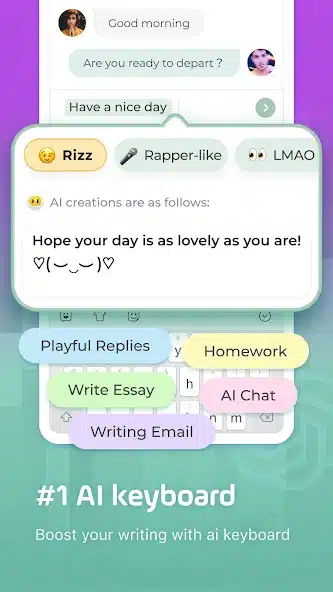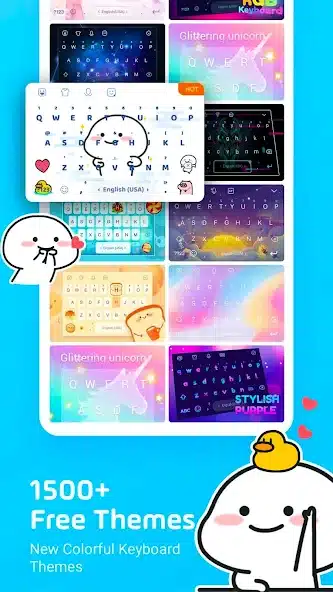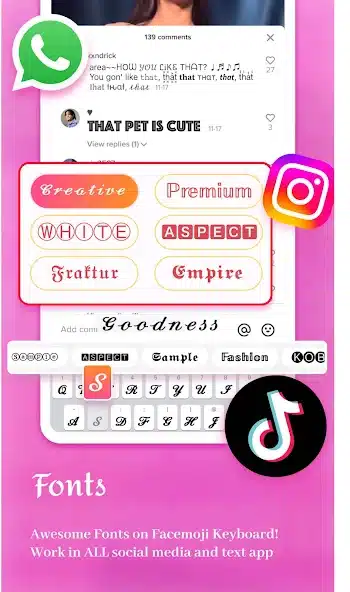 Overview:
Text looks more fascinating and appealing with the hottest emojis keyboard App. There are several Keyboard apps available on the market but the Facemoji Keyboard is the most popular App among them. Facemoji Keyboard is a fully customized Android tool that emerged as a popular choice for users seeking a versatile and joyful keyboard for their Android devices. The Android tool provides a wide range of unique emojis, emojis combos, cute GIFs, cool fonts, beautiful themes, and many more. In addition, users can customize their keyboard according to their preference or interest and set the background by picking any of their favorite photos or image.
Facemoji Keyboard APK:
Facemoji Keyboard APK is an AI-powered Keyboard that analyzes the text content and generates a response based on your conversation. It can write or reply to anything of your desire and provides efficient responses to satisfy users. The tool contains 5000+ emojis, WhatsApp stickers, GIFs, Kaomoji, TikTok emoji, and elegant themes on its keypad. Using the Application, users can make their Social media bios, stories, and other descriptions more attractive. In addition, you will get more likes for your posts. It offers several keyboards and even more emoji packs to download and use whenever you want. To enjoy the astonishing Application on your Android device, click on the download button given above.
Facemoji Keyboard APK offers many captivating features. The most significant feature of the Application is auto-correction, it will automatically correct the typos to assist users to communicate efficiently without any mistakes. In addition, it has an auto-paste feature that allows users to fill text directly with hot trending phrases or other content in social media bios and descriptions. Moreover, the other key features include a customized photo keyboard, fast typing, elegant themes, multiple languages support, an inbuilt translator, a user-friendly interface, and many more.
Features of Facemoji Keyboard APK:
Facemoji Keyboard APK is a fantastic tool loaded with multiple incredible features. These mesmerizing features and other applications enable users to download and use the Application on their Android device. Some of the key features of the Application are as follows,
Customized keyboard or Photo Keyboard:
The feature allows users to take a pick or choose a photo/picture from their device gallery as a keyboard background. Furthermore, you can pick the color of the keys, size, and style of font, tapping effect, and even all by yourself.
Emojis, Stickers, and GIFs Keyboard:
The App provides tons of stickers and GIFs and emoticons to express your emotions or feelings with your family, friends, and others. It contains all the latest trends, unique emojis, and stickers that you have never seen in other keyboard apps. It makes your communication more exciting.
Elegant Themes:
The fantastic tool will provide you with over 1500+ free elegant themes that help users to give make their devices unique and appealing. The stylish theme provide by the keyboard App include a Neon keyboard, Japanese anime, an LED keyboard, K-Pop idols, cute animals, Boba milk tea, Ironman, Unicorn, Animated theme. In addition, the latest themes are updated regularly.
Auto Paste Keyboard and Clipboard:
The feature allows users to paste any of the text content with one click and send it repeatedly. It saves the time of users by sending messages fastly. users don't need to copy and paste the text content again and again, the Clipboard keyboard saves all the copies of notes and sends them in one tap.
Cool Font Keyboard:
Using the Facemoji Keyboard App, you can create elegant text content with fancy fonts for your social media apps such as Instagram bio, and Tiktok posts. In addition, it also has over 1000 unicode symbols and templates to use.
Fast Typing:
The Facemoji Keyboard has fast typing features that enable users to type fastly with smooth gesture typing. In addition, it contains creative emoji suggestions and emoji predictions that assist users in stickers prediction in Messenger, WhatsApp, and other social media apps.
Support Multiple Languages and Built-in Translator:
The tool supports 100+ languages with a keyboard translator. Users get a translator feature embedded inside the keyboard that assists them to translate and communicate in different languages. Privacy and Security
This App is safe and secure to use on your Android device keyboard. It will not collect personal data and other information without your explicit permission.
User-friendly Interface:
It has a simple and intuitive interface, everyone can easily use it on their Smartphones without any hassle.
How to Download and Install the Facemoji Keyboard APK?
The downloading and installation process of the Facemoji Keyboard APK is simple and easy. To download and install the Facemoji Keyboard APK on your Android device, follow the steps given below,
Firstly, scroll up the page and click on the Application download button given at the top of the page
Once you click on it, the downloading process of the App will start., wait until the process is completed.
After the App is downloaded completely, the next step is to install the App on your Android device.
To install the App, navigate to your device Menu> Settings> Security> Unknown sources
Enable all unknown sources and, then tap on the install button given on the screen.
Once installed, the Facemoji Keyboard App icon will appear on your Smartphone
Open the App and start using it by sending unique stickers, GIFs, and other emoticons to express and convey your emotions to your friends.
Enjoy the exciting features of the latest trending keyboard and have a lot of fun
Conclusion:
Facemoji Keyboard APK is the latest trending AI-powered keyboard that offers a wide range of features and customization options. It provides a vast collection of unique emojis, tons of stickers, and GIFs to express your emotions effectively. Moreover, the tool offers many other fabulous features such as fast typing, auto-correct, and auto-paste that enhance the overall typing experience and communication creatively. Besides these, the tool will give a satisfactory response to anything you ask or write. Enjoy the captivating features by downloading the Facemoji Keyboard App on your Android device